HiDrive cloud storage
The online storage for your data
Largest German online storage solution!
Protocol package included
Two-factor authentication included
100 GB Storage space

1 User Inc.

Certified security
250 GB Storage space

3 User Inc.

Certified security
500 GB Storage space

5 User Inc.

Certified security
HiDrive – Germany's most ingenious cloud storage solution
Easily create backups of your images, documents and videos with the HiDrive online storage solution from STRATO. Your data is always at hand – even on mobile devices. Organise and share your files conveniently or scan important documents directly.

Your data is thoroughly protected thanks to German data protection law and the strict security standards at STRATO.
Easy to use – with all devices
Whether by smartphone, tablet, PC or Mac: You will learn how to use the cloud storage space in no time at all thanks to the intuitive HiDrive software and apps.
Apps
All files in your trouser pocket: Download the intuitive HiDrive app for your smartphone or tablet.
Desktop applications
You can easily connect your computer to the cloud and flexibly synchronise folders with the software for Windows and Mac.
Web applications
You can access your data securely using any browser – even from other devices.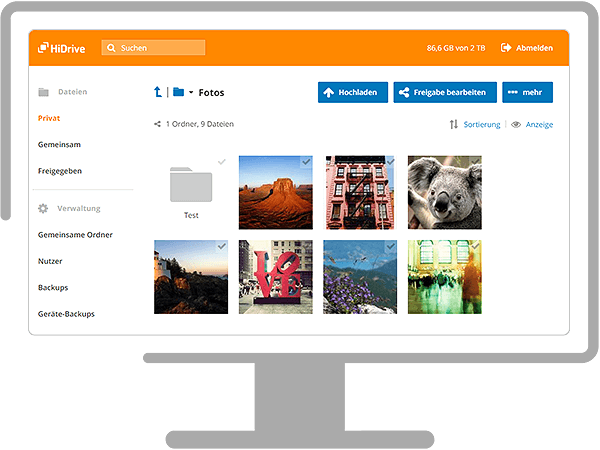 Protocols
Flexibly mount your cloud storage on your systems with the optional protocols – for instance as an additional drive on your PC. Included access options: (S)FTP/FTPS, WebDAV, SMB/CIFS, rsync, SCP and Git.
Link API and NAS
You can easily integrate the platform into your own application with the HiDrive API. Data from network drives can also be backed up automatically. The cloud storage solution supports network drives from QNAP and Synology, among others. Simply install the app on your network drive and connect it with encrypted data transmission.
Quite simply on the safe side
Exclusively German servers – 100% green
The security of your data is our top priority. Our data centres are among the most secure in the world and are certified by TÜV NORD according to ISO 27001. Data storage is GDPR-compliant.

We run our data centres efficiently with green electricity from 100% renewable energy. This regenerative energy keeps our data centre operations entirely climate-neutral.
Certification
HiDrive meets all the criteria for security, processes, data protection and technical functions, as confirmed by the Tested Cloud Security seal from TÜV Saarland.

In addition, HiDrive has received certification as a Trusted Cloud from the Federal Ministry for Economic Affairs and Climate Action. Criteria such as transparency, security, quality and legal conformity are checked for the award of this label. HiDrive fulfilled all of the requirements and was awarded Trusted Cloud certification.
Backups
HiDrive automatically creates regular backups of your files so that you can easily restore your data. You still remain completely in charge: It is entirely up to you how often a backup is created and for how long it is stored.
Device backups
We also provide device backups as an optional extra. Protect the data on your mobile devices – videos, music, calendars and contacts – from data loss and easily restore them, regardless of the operating system.
End-to-end encryption
With the optional zero-knowledge encryption, you can encrypt your files directly in the cloud software so that no one else can open or read them.
Two-factor authentication
You can enable two-factor authentication in the HiDrive web interface if you like. It works easily for all logins, even when using HiDrive with network protocols. Two-factor authentication is controlled by the authenticator app, which is installed on your mobile device.
Convenient sharing
Flexible access rights
Share files or folders with a simple link – password-protected, with expiry date or download limit if preferred. It also works the other way round, so you can share folders to upload files.
Team users
Do you want to share access to your online storage with family or friends? Simply add as many users as you like. Each user will also have their own private folder.
Team folders
Create folders and add shared content, documents or images. Define who has access to which folders to view or edit files. The team folder function is automatically included with each of our packages for two users or more.
predefined
predefined
predefined
Frequently asked questions
What are my advantages with a cloud storage solution?
With cloud storage, you back up all your data at a single central location. You always have access to your files, from any location. Your data is always kept secure in our cloud storage. This kind of cloud storage is more secure than a local backup.
In addition, every user has access to all public folders and additionally to their own private folder in the HiDrive package. Not only does this mean effective protection of user data, it also safeguards privacy in the administration of projects and files. Sensitive information such as employee data can be placed in private folders. By contrast, all authorised users can access files that are needed by several people.
What kinds of data can I store in HiDrive?
You can store all conceivable data formats with HiDrive. So you can use a wide range of programs on various operating systems and devices to easily access the same secure online storage space whenever and wherever you want.
Storing large files in the cloud is simple with HiDrive: There is no limit on file size. The available storage space available is only limited by the product you booked. For example, you can easily save a large file to HiDrive if you want to back up an Adobe Premiere video project with 10 GB. You can also upload and save large Photoshop files and then share them on the file server. In addition, there is no limit on the number of files and folders you can upload to the cloud storage. You can save many individual files to just one folder: Doing so makes the administration and organisation of your online file storage easy and practical.
How does HiDrive secure my data?
Data protection and security are top priorities. That's why HiDrive uses AES128 encryption for the storage of data. This ensures that your data is stored with a professional level of security and is fully protected against cybercrime. You can protect your data even more – with end-to-end encryption as an additional option. Only you will be able to view your files with this type of encryption (zero-knowledge) – no one else has access to your data.