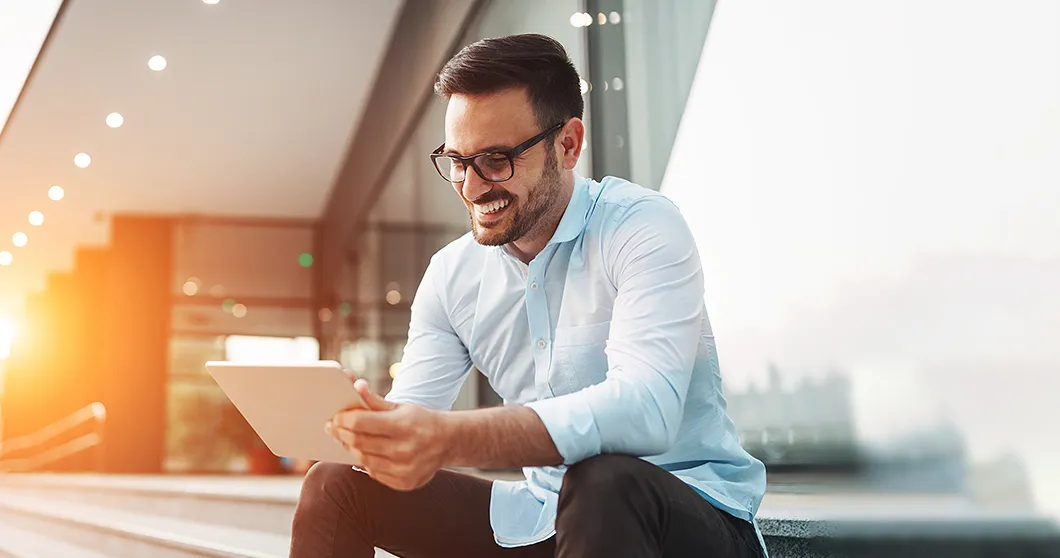 HiDrive Business Cloud
Efficient teamwork for your company
Secure data management & encryption
Simultaneous work on documents with HiDrive Office
Automatic data synchronisation & backups
1,000 GB Storage space

25 User

5 Admin accounts

Share options

Unlimited Traffic
5,000 GB Storage space

120 User

20 Admin accounts

Share options

Unlimited Traffic
HiDrive Business – The ideal cloud storage for your company
Benefit from our flexible Business Cloud. Back up and store important documents or collaborate efficiently on large files in a team – conveniently and securely.

The security of your data is our top priority. That's why STRATO is regularly certified according to TÜV standards, uses exclusively German server locations and provides secure encryption.
Don't worry about the security of your data
Security is an important issue for companies, regardless of their size or structure. To reflect these concerns, we voluntarily commit to the highest security standards and comply with German data protection law.
Certification
Your files are stored in accordance with German data protection law and the GDPR. The security and availability of our data centres at STRATO is confirmed by independent TÜV NORD certification according to ISO 27001.

HiDrive has additional Trusted Cloud certification.

It covers aspects such as security, data protection, quality and technical functions.
Exclusively German servers
All files that you upload to HiDrive Business are stored exclusively in Germany. They are kept redundantly in the data centre and not just on one hard drive. The HiDrive platform offers excellent security here, as the data in the Business Cloud is distributed over several hard drives and at different locations in the data centre.

Our data centres are completely climate-neutral, as they run efficiently on green electricity from 100% renewable energy.
Encryption
Data transmissions (data at transit) are protected by the secure encryption method AES-256 via SSL. AES-128 is used to store your data on the platform (data at rest).

Zero-knowledge encryption (end-to-end encryption – E2EE) is another option, which enables you to store files so that no one else can open or read them. The AES-256 and ECDH (Elliptic-curve Diffie-Hellman) methods are used in this case. Windows software or the HiDrive apps are used for encrypting and decrypting the data.
Backups
Automatic backups
Your data is backed up regularly and automatically. This involves storing snapshots so that the data can be restored at any time. You can adjust the interval in HiDrive to suit your requirements.
Device backup
The device backup function allows you to back up files such as photos, videos and contacts from the local device (Windows, iOS and Android) directly to HiDrive and restore them if necessary.
All the functions you need for your company's success
You can create convenient and customisable folder structures with HiDrive Business. You can also assign access rights such as read and write rights, grant permissions to individual users or share folders for collaboration within one or across several teams.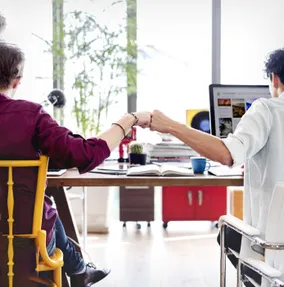 Team folders
Create a personal folder structure to lay the foundation for successful and efficient collaboration in the team. You can ensure that collaboration is organised successfully by deciding individually which employees have access to certain folders.
Each user is also assigned a personal folder.
Sharing
Share relevant files with your employees to ensure transparent and fast communication at work – more conveniently than ever with HiDrive Business
Give your team members direct access to selected files.
Ensure employees have transparent access to files for collaborative editing and share files or folders simply by clicking on a link. This can all be password-protected, with an expiry date and download limit if required. You can also share folders to upload files.
Images can be uploaded very easily by drag & drop as well
Work images can also be added to your HiDrive Business using drag & drop. Allow employees to view images stored securely in the cloud by sharing a HiDrive folder for uploads.
User administration
Thanks to simple user administration, you can assign individual access rights and connection protocols to each user.
You can also reorder additional users at any time in your STRATO Login as your company grows.
Protocols
HiDrive Business is easy to mount in your current system landscape with the supported protocols. The following protocol types are included:
(S)FTP/FTPS
Fast data transmission with resume option
WebDAV
Mount folders by WebDAV on an HTTP/S basis
SMB/CIFS
Mounted as a drive in your operating system
Rsync
The default tool for data synchronisation
SCP
Secure data transmission with the SSH protocol
Git
Secure Git repository for developer version management
Mobile scan
Simply scan documents from your device (iOS or Android) directly to the cloud – with text recognition and automatic PDF conversion.
HiDrive Office – by Collabora Online
Collaborative
Edit files together or work simultaneously on texts, presentations or spreadsheets. Add comments directly in the document and invite users to edit files via a shared link.
Flexible
You and your colleagues have access to the documents and can see all the changes – in real time and at any location. You are therefore up to date at all times and can respond to changes directly in HiDrive Office. The layouts and formats are preserved.
Versatile
Edit different document formats directly in your HiDrive Business. The following file types and formats are supported, among others: .doc, .docx, .ppt, .pptx, .xls, .xlsx, .odf. HiDrive Office by Collabora Online is included in all HiDrive Business products.
Easy to use – with all devices
HiDrive Business is compatible with all common devices and operating systems.

Use the convenient web application, app or desktop software to edit, view or share files in your future cloud storage, whether on the go or from your workplace.
HiDrive web application
You can access your data via any browser at any time – regardless of your location or device. All you need to do is log in to your HiDrive.
HiDrive app
You always have your files at hand with the HiDrive app. Download the intuitive HiDrive app for your mobile device. Available for iOS and Android.
HiDrive desktop software
HiDrive is also available in a desktop software version. It's the ideal addition to the your company workstations. The desktop software enables secure synchronisation of folders with the cloud.
Seamless integration into your system
Besides the protocols, there are other ways to mount HiDrive Business in your current system landscape.
HiDrive API
It's easy to integrate HiDrive Business into your own software with the HiDrive API – a RESTful web API with OAuth 2.0 authentication. This adds highly secure cloud storage to your IT resources.
HiDrive NAS
With HiDrive Business, you can automatically create online backups of data from your NAS (network attached storage – network hard drive). HiDrive directly supports network drives from QNAP, Synology and others. It is perfectly simple to back up your data once you have installed the HiDrive app on your network drive.
Frequently asked questions
What is the difference between HiDrive Consumer and HiDrive Business?
The HiDrive Business Cloud plans address the needs of companies for efficient work and solutions for team collaboration.
The plans include even more storage space than the HiDrive Consumer options and come with more inclusive features. Naturally, the Business Cloud plans can be used away from work as well.
Which is the right HiDrive Business product for me?
We have defined a few criteria to make the choice easier for you or your company:
1. User accounts
How many employees or staff members at your company should have their own account?
This depends on the number of Business Cloud user accounts. For instance, you can establish a private area in your Business Cloud for employees or business partners that cannot be accessed by anyone else.
2. Storage space
What kinds of data do you want to store, and how much storage space will this require?
HiDrive Business is available in various storage sizes, always without limits on bandwidth and file size.
3. Encryption
Do you want to encrypt your data end to end? This important feature is already included in the HiDrive Business plans.
What kinds of data can I store in HiDrive Business?
You can store any file format – without exceptions – in your STRATO Business Cloud. Whether it's Word or Excel documents, PDFs, videos or XML files, various image formats, Photoshop or PSD files – they are stored securely in the Business Cloud along with all other formats as well. In other words: You can use a wide variety of programs on any kind of operating system and device to easily access the same secure online storage space whenever and wherever you want.

Storing large files in the cloud is no problem at all with HiDrive: There is no limit on file size. The available storage space available is only limited by the plan you booked. Check our cloud storage prices and pick the option that best suits your needs.
The technical limits on the storage space will not be reached in most cases. For example, you can easily save a large file to the Business Cloud if you want to back up an Adobe Premiere video project with 10 GB or more. You can also upload and save unusually large Photoshop files and then share them on the file server.

There is no limit on the number of files and folders you can upload to the Business Cloud. For instance, you can save thousands of credentials in just one folder: Doing so makes the administration and organisation of your online file storage easy and practical.
How secure is my data in the Business Cloud?
Data protection and security are top priorities. That's why end-to-end encryption is included in all HiDrive Business plans. This encryption and other measures such as ISO 27001 certification ensure that your data – whether personal or company – is transferred and stored with a professional level of security. In other words: your data is fully protected against unauthorised access or cybercrime. Organised this way, cloud storage is more secure than a local backup in an office drawer.

What's more, each user has access to their private and public folders as well as to the public folders of other users in the HiDrive Business Cloud package. Not only does this mean effective protection of user data, it also safeguards privacy in the administration of projects and files. Sensitive information such as employee data can be placed in private folders. By contrast, all authorised users can access files that are needed by several people.